Comenity Capital Bank issues the Carters Card, which works for all Carters brands, including OshKosh B'Gosh, Skip Hop, and Little Planet. You get free shipping and many other benefits with your card purchases. The online customer portal gives you 24/7 access to your account to make an online payment, view your transactions, and much more.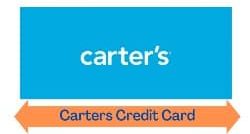 Credit cards are available to Carter customers for hassle-free payments and savings on online and in-store purchases. Customers receive bonus points with every purchase and can quickly redeem them. Instead of issuing credit cards, Carter works with Comenity Capital Bank, which gives the Carter credit card on behalf of the company. Today's topic of discussion is how to pay the Carter credit card bill.
Carter Credit Card Payment Options
Online
Using a credit card over the Internet can be a very convenient and secure payment method. In the United States, you can make payments online through banks. Pay before 6 pm on the due date to avoid late payment penalties.
Log into your Carters Credit Card accounts with your username and password.
Access the payment option and register your savings or checking account to deduct the payment.
Enter the required information, for example, the amount you want to pay, payment date, etc.
Comenity's EasyPay 
Comenity's EasyPay feature allows customers to pay their credit card bills online without creating an account. Customers can access Comenity's EasyPay service by visiting https://d.comenity.net/easypay/carters/welcome. Paying online is as easy as providing some account information.
Payment By Mail
You can send your check or money order to the following address to pay by mail. Remember to include your account number in the payment form.
Carter's Credit Card
PO Box 659820
San Antonio, TX 78265
Payment By Phone
You will find the customer service number on the back of your card. If you want to make your payment over the phone, you can dial this number and listen to the automatic prompts. You can also contact Carter Customer Service by calling 1-877-321-8509, the number users can use to contact Customer Service.